■
15 August 2013 | 8:03 PM
Old Dominion president John Broderick , right, was named to the executive committee of Conference USA on Thursday at a retreat in Irving, Texas.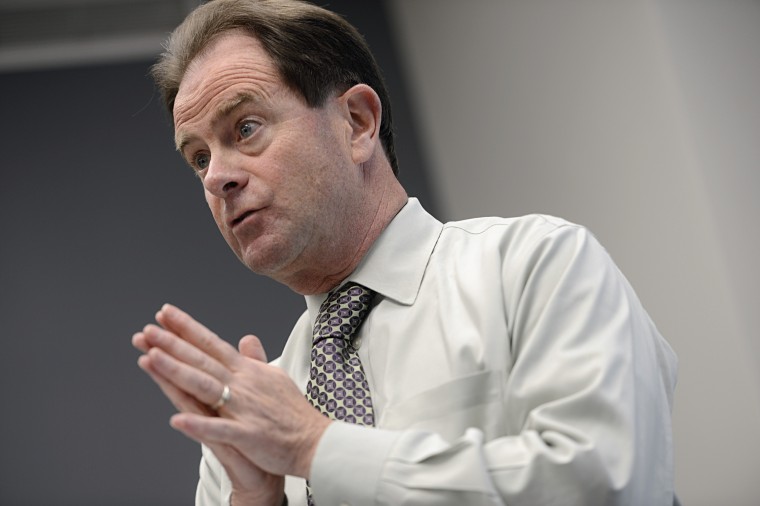 The 5-man executive committee, composed of college presidents, makes recommendations to commissioner Britt Banowsky on major issues and sets policy on others.
"They are the true leadership group of the conference," said ODU athletic director Wood Selig, who attended the retreat with Broderick. "They are there to help shape policy and affirm decisions that the rest of the conference may wish to make."
ODU joined Conference USA on July 1. Banowsky said on a trip to Norfolk several months ago that Broderick likely would be named to the executive committee.
"John Broderick is a visionary leader," Banowsky said. "He's so strategic in his thinking. He's been a great contributor to our conference."
Selig said no major decisions were made at the retreat, but that conference officials agreed not to expand in the immediate future.
C-USA added eight schools this summer, including ODU, and Western Kentucky joins in 2014 to compensate for the loss of seven schools to the American Athletic Conference.
The conference has 16 members, but that drops to 14 in 2014 when East Carolina, Tulsa and Tulane depart.
Selig said that the consensus feeling among conference officials was that 14 is enough.
"Unless there are some compelling reasons, such as more revenue coming in or other opportunities or advantages, I think we're going to be content with where we are," he said.
"There's no huge interest in the membership going back to 16."
Although conference realignment appears to have slowed, Cincinnati and Connecticut are still attempting to leave the American Athletic Conference for a Bowl Championship Series league such as the Big 12. If that happens, the AAC is likely to take two more C-USA schools.
"We have to make sure we have options if we need them," Selig said.
Arkansas State, Georgia State and Louisiana-Lafayette from the Sun Belt Conference and James Madison from the Colonial Athletic Association appear to be the most likely expansion candidates.
ODU will compete in most C-USA sports this season, including men's and women's basketball. The football team plays as an independent this season and begins playing a C-USA schedule in 2014, when it becomes eligible for the conference championship.
ODU's football team will play in the East Division with Marshall, Middle Tennessee State, Western Kentucky, Florida International and Florida Atlantic and perhaps Alabama-Birmingham. UNC Charlotte begins playing conference football in the East Division in 2015. UAB eventually will move to the West, although it's uncertain whether that will occur in 2014 or 2015.
Selig said he sat next to Charlotte athletic director Judy Rose during the 2-day retreat. Three weeks ago, Charlotte cancelled a football game with ODU in November, four months before the game was to be played. That followed a decision by ODU weeks earlier to cancel a 2014 game at Charlotte.
Selig said that he and Rose had a good relationship before that spat and still do.
"We had good discussions in Dallas," he said. "It's forgotten. There's no ill will, no hard feelings. That stuff happens. If you hold grudges and don't get over it, you won't have a long career in college athletics."
COMMENTS ADVISORY: Users are solely responsible for opinions they post here; comments do not reflect the views of The Virginian-Pilot or its websites. Users must follow agreed-upon rules: Be civil, be clean, be on topic; don't attack private individuals, other users or classes of people. Read the full rules here.
- Comments are automatically checked for inappropriate language, but readers might find some comments offensive or inaccurate. If you believe a comment violates our rules, click the report violation link below it.