I'M GOING TO fly out on a limb and say, good warbler watching today!
After a slow fall season for migrating warblers and other birds, this past rainy, windy week that brought a cold front should get the birds moving down from the north.
Traditionally birds fly south along the Eastern Seaboard, pushed along by nor'easters bringing cold fronts. They gather at Kiptopeke on the Eastern Shore, where they wait for favorable winds to help them make the long Chesapeake Bay crossing.
Birds cross the bay pretty much along the route of the Chesapeake Bay Bridge-Tunnel because, as it is for cars, it's the shortest distance between two points for birds also.
Kiptopeke State Park is the site of bird banding operations, and many birders go there to look for migrating songbirds, hawks and others, starting soon after the first of September.
Donnette Glenn, who lives in River Walk on the Elizabeth River in Chesapeake, traveled a couple of weeks ago to check out the birds. She was counting on seeing hundreds of warblers as she had last year on the same date.
"Not a one!" Glenn wrote.
In addition, she usually sees a lot of migrating birds in her backyard that backs up to woodlands. But like Kathy Spencer in Chic's Beach, who reported a couple of redstarts and a black and white warbler in last week's Close Encounters, Glenn also has seen only a few of the same birds in her yard.
Andrew Arnold, a graduate student at Old Dominion University, is leading a ground study on the use of radar to detect habitat use during bird migration. He is out in the field every day and wonders if the warm, summer-like weather with no cold fronts to get the birds moving en masse has led to a scattering of migrants, rather than huge flocks.
"Even with this occurring," Arnold said. "I do still believe the birds are moving at a fairly normal rate.
"Migration is triggered by the shortening of the days and these birds are 'hardwired' to undertake this journey."
On the other hand, he noted that birds that are not going on a long-distance migration might be a little more affected by warm weather and the availability of food, such as insects, which warblers love.
Even so, on his daily observations for a month or more now, Arnold has recorded northern parulas, black-throated blue warblers and ovenbirds here. Recently blackpoll warblers and golden-crowned kinglets also have started showing up, he said.
That Spencer and Glenn both saw American redstarts is no coincidence. "The most numerous migrant for the season is definitely American redstarts," Arnold said.
Colorful male and female redstarts are starkly different. The male is unmistakable - black and orange - but the gray and yellow female can be confused with other warblers.
Arnold predicts that following this week's stormy weather bringing in cooler temperatures, birding should be "eventful around our area."
"Here's to hoping our little 'confusing fall warblers' show up soon," Glenn wrote.
Maybe today is the day.
To see more on Andrew Arnold's research at ODU, visit http://www.odu.edu/news/2013/10/bird_survey.
CLOSE ENCOUNTERS
Joe Phelan sent a photo of a cannonball jellyfish that he found at low tide in shallow water at Sandbridge. And Cecile Marshall Clanton sent a lovely photo of a little green tree frog in a rose bud at Back Bay. See the jellyfish and the frog photos in Thursday Beacon's Close Encounters.
The Virginia Beach Garden Club created a topiary "diamondback terrapin," complete with faux diamonds among the succulents on its back as part of the decorations at the Norfolk Botanical Garden's 75th anniversary gala.
On recent trips to the Back Bay area, Katri Twiford photographed a chicken and a deer crossing the road. Twiford wants to remind everybody to be careful while driving through the country. "You never know what's going to cross the road," she said.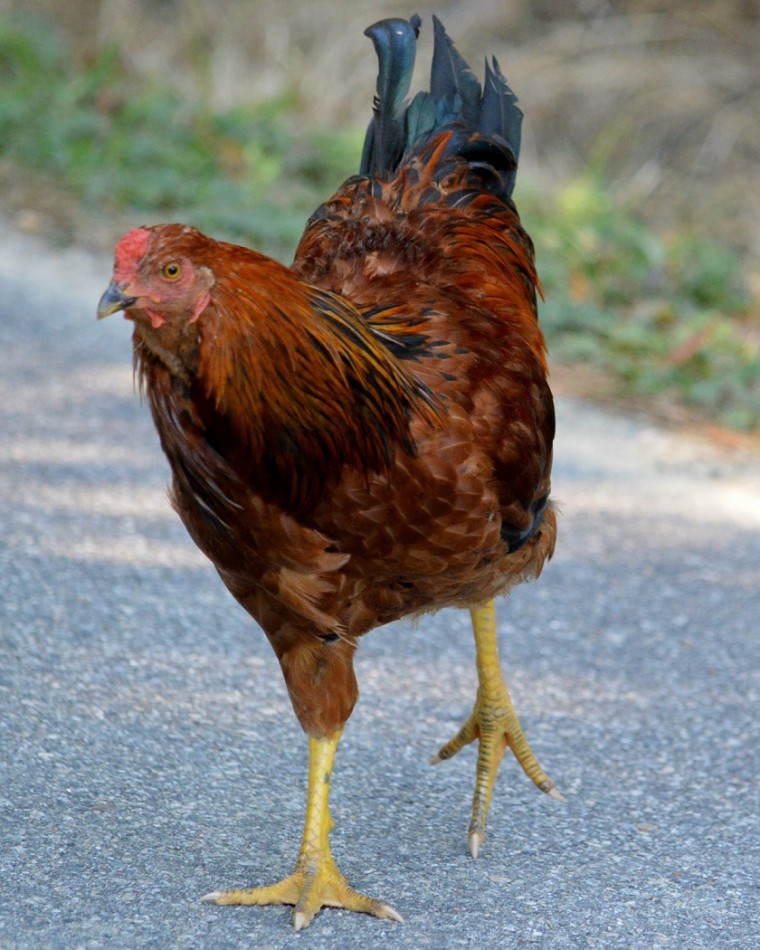 Satoko Moore in Wesleyan Pines said goldfinches are enjoying her shiso plant seeds, so much so that six to seven are on a plant at one time. Shiso is a Japanese herb that she uses in dishes such as tempura, cucumber salad and tofu.
Donna Slater sent a photo of a varnish shelf fungus growing at the base of her vitex tree. "So pretty. Looks like wood," she wrote. As the mushroom darkens it gets browner and looks like it is coated in varnish.
Ray Gregory sent a photo of a squirrel and three doves enjoying the same sunshine patch together in his West Ghent backyard. He called his photo, "Peaceful Coexistence."
Jerry Girardi in Indian Lakes sent a photo of two Carolina wrens roosting under the corner of his bedroom awning. At sunset, the birds call to each and within minutes are in their roost for the night, Girardi said. This is the second year the birds have roosted there.
Steve Coari sent photos of an American bittern and a snipe from Mackay Island National Wildlife Refuge. And Pam Monahan also went on a "snipe hunt" at the refuge before it was closed in the government shutdown. See the photos on my blog.
Woody Stephens has been photographing the Saw Pen Point pair of eagles recently in their favorite tree at Ferry Plantation.
Robert Brown, who monitors wintering ospreys in the area, has begun his yearly observations. He saw 11 or more late migrants fishing off the beach at First Landing State Park.
Una Davenhill in Kempsville sent a photo of an imperial moth caterpillar. The green caterpillar features lots of eyespots and several knobs and hairs.